About the Committee
Chair
Associate Chair
Members
Lois Alexander
Kayce C. Bell
Brad R. Blood
Patrice K. Conners
Drew Eline
Elmer J. Finck

Andrew G. Hope

Sharon A. Jansa
Kim Jones

Douglas A. Kelt

Eileen A. Lacey
Enrique P. Lessa
Jessica E. Light
Verity L. Mathis
Christy McCain
Michael McGowen
R. Neal Platt

Janet Rachlow
Drew Ricketts  
James Ryan
Steve R. Sheffield
Robert S. Sikes
Kelly A. Speer
Katie Stanchak
Neal Woodman
History and Mission
The Program Committee was established by the Board of Directors in 1971 in response to the need for a more effective method of selecting sites for and improving organization of the annual meeting. It promotes the annual meeting and assists in its organization and conduct. Specific charges are to arrange for the annual meeting site and to develop the basic format of the annual meeting. It solicits symposia and workshops from members and ASM committees.. In collaboration with the International Relations Committee, it explores possibilities for special meetings, such as joint meetings with other mammal societies, and participates in planning the content and format of such meetings. The committee serves as a source of advice and information to local hosts and provides liaison between successive annual meetings. The Chair of this committee is the Program Director, which is a board-appointed officer with a six-year term.
Responsibilities
The responsibilities of the committee are to promote and organize the annual meeting, organizing submitted abstracts, planning a comprehensive program of oral presentations and posters, the solicitation of symposia and workshops, and obtaining sponsors support for the annual meeting and its activities. The committee establishes venue and dates for future annual meetings, and considers and makes recommendations on ways to make meetings more attractive and valuable for exchange of scientific information and networking.
Annual Meeting
The Annual Meeting of the American Society of Mammalogists is its premier event each year. This is the most important annual conference anywhere in the world for the science of mammalogy. For a five-day period, hundreds of mammalogists and professionals from related disciplines from all over the world gather to exchange scientific information and the latest research, enhance their professional knowledge and skills, and network with colleagues. The Meeting includes exciting networking events, special plenary sessions, workshops, symposia, the annual Society awards and members meetings. The exhibition features equipment, supplies, and reference materials.
Scheduling ASM Meetings
Annual meetings of the ASM are scheduled to follow a 5-year regional rotation to facilitate attendance by members from different geographic areas.  For organizational purposes, the ASM has divided North America (Canada, Mexico, and United States) into the following regions: Northeastern, Southeastern, Northcentral, Southwestern, and Western.  The Program Committee encourages inquiries from members who wish to issue an invitation for a future meeting or suggestions for specific venues within each region. Members interested in hosting a meeting should contact the Program Committee Chair for more information.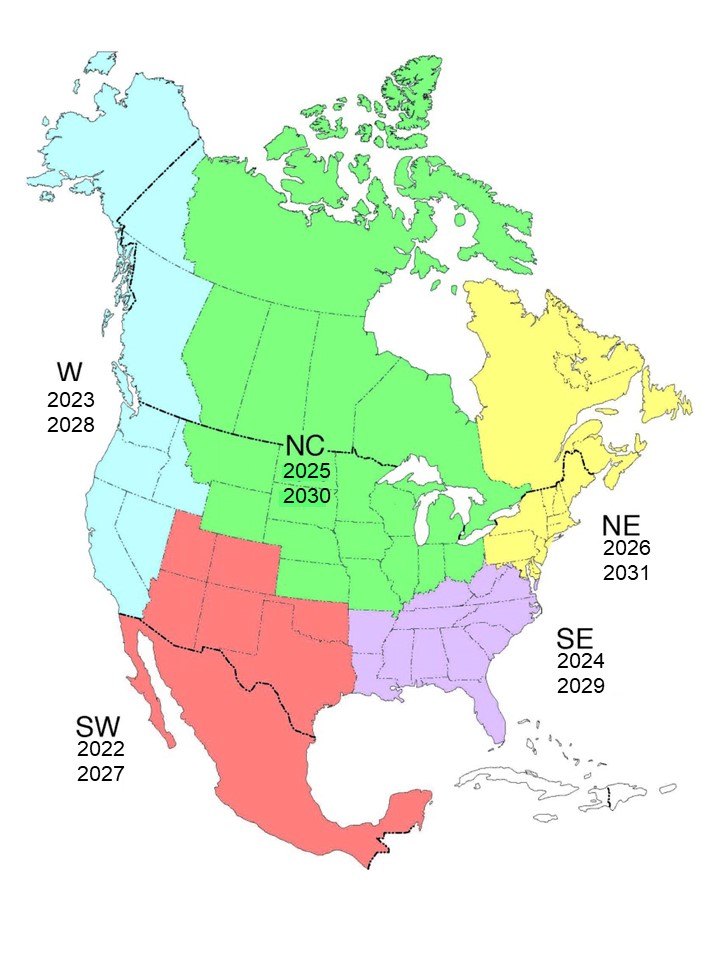 (click map for a larger image)
Regions
Northeastern Region

Connecticut
Delaware
Maine
Maryland
Massachusetts

New Brunswick
New Hampshire
New Jersey
New York

Pennsylvania
Quebec
Rhode Island
Vermont

Southeastern Region 

Alabama
Arkansas
District of Columbia
Florida, Georgia

Kentucky
Louisiana
Mississippi
North Carolina

South Carolina
Tennessee
Virginia
West Virginia

Northcentral Region

Alberta
Illinois
Indiana
Iowa
Kansas
Manitoba

Michigan
Minnesota
Missouri
Montana
Nebraska
North Dakota

Ohio
Ontario
Saskatchewan
South Dakota
Wisconsin
Wyoming

Southwestern Region

Western Region

Alaska
British Columbia
California
Streaming Presentations 
ASM Members can log into the Business Office site or anyone can visit our YouTube channel and stream presentations from past meetings!
Symposia & Workshops
The annual meetings are enhanced by symposia and workshops proposed and/or contributed by the membership. Proposals for symposia and workshops should be submitted to the Program Committee at least 15 months prior to the meeting at which the symposium/workshop will be held. Contact the Chair of the Program Committee with suggestions for future symposia and workshop topics, potential conveners, and potential participants.
Information about ASM symposia and workshops can be found in the Guidelines and the Application Form. For ASM-IMC, please follow these guidelines for Symposia and Workshops.